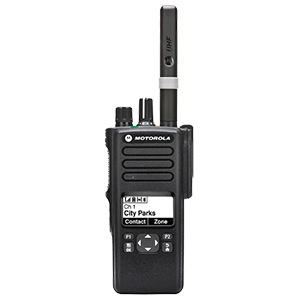 A walkie talkie is used to communicate between two people or groups of people. Camping or hiking in a remote area where there are no cellular signals, walkie talkie sets or two way radios are the perfect solution for keeping everyone in touch and aware of what's going on. At a time, one person can send message to one or more of its group members.
Various organizations and businesses make use of these devices to convey messages to their staff that helps to manage business well. Event managers use them to communicate with their staff to make the event well organized that may include rearrangement of chairs, problems with food delivery etc. Hospitality industry can get benefit from this effective means of communication in order to make all the things well organized.
Two way radios are simple and easy to use without any monthly charges. Most of the models have a push-to-talk button that allows user to send messages. There are many different options and features available for two way radios that provide ease of communication to people and are a great option for outdoor and recreational adventures. They have different transmission power. Two way radios that have higher transmission power also have greater range.
Deliver clear voice in all weather conditions:
Two way radios sets deliver clear voice in all weather conditions. Many hand held radio headsets are built for high noise areas in order to send and receive messages clearly. The compact nature of today's long range walkie talkie communications equipment makes it a great asset for families and businesses alike.
Instant Communication:
Walkie talkie sets are the perfect solution for group of people who go outdoors for hunting or some other adventure to figure out where a particular person of their group have gone. This is a good way of instant communication without having problem of signals.
Easy to use:
It can be conveniently hooked to your belt with a headset that enables you to stay in touch while keeping your hands free. Some two way radios are able to wear on your wrist. Use of these devices while camping provides a great and easy way to communicate with fellow campers. This is a great product that helps in case someone get lost or misplaced while camping.
No problem of signals:
Two way radios do not require signals for communication. They use their own transmitting frequency and depend on their range. Some can communicate up to several feet while some others can communicate up to a few miles. Two way radios that have long range are good to use.
Ability to Communicate With More Than One Person at a Time:
On camping trips, it is comfortable to talk with a walkie talkie or two way radios. It is more durable and allows communicating with more than one person at a time.
There are thousands of two way radio models available in the market with various features. You need to do a little research before buying the one that best fits your needs.
We are famous in providing high quality walkie talkies and various other products in Malaysia. Thousands of people have purchased or rented walkie talkie radios from us. If you want to get quality products, contact us today.