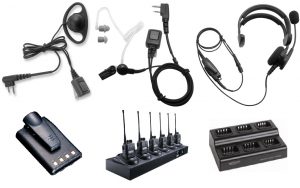 Two way radios are portable radio communication devices where only one radio transmits at a time, though any number can listen. These devices resemble a telephone handset with an antenna sticking out of the top. Two way radios are widely used in any setting where portable radio communications are necessary including outdoor recreation, public safety, industries, and more. These devices are also sold as toys as children enjoy using them while playing. Digital walkie talkies are commonly used on boats and in heavy industry.
In addition to communication on land, two way radios are commonly used for marine and aviation communications. These devices have switches to provide quick access to emergency and information channels. These devices are easy to use, affordable and can be made very small to easily carry them.
There are various walkie talkie accessories available such as rechargeable batteries, drop in rechargers, multi-unit rechargers and an audio accessory jack.
When headsets are used with voice activation (VOX) capability the user can talk with hands free operation. There are various walkie talkie accessories that help in improving communication. Speaker microphone is an audio accessory that clips near the ear. Walkie talkie accessories include security type ear pieces with a push to talk switch, built in microphone, a headset, push to talk switch ear bud, single ear head set with boom microphone and more.
Children use walkie talkies for playing. They are widely used for recreational events. In fact, two-way radios now offer an extensive range, convenience and robust technology which make them ideal for use in industrial areas, recreational events and much more. At the shopping center, when traveling, hiking, and skiing or any other time where distance may separate you, two-way radios bridge the gap.
Use of walkie talkies is inexpensive and helpful. Walkie talkie accessories can easily add more value to them.
The most popular and essential walkie talkie accessory is a spare battery. Battery is essential for working a walkie talkie, therefore, if you are going to use it for a long time, you should have an extra battery.
Adjustable microphones and headsets are other valuable walkie talkie accessories that are commonly used in busy and noisy environments. With the help of these accessories, walkie talkies can be placed around the neck or clipped to the collar.
In order to have a clearer transmission, there are heavy duty speakers' microphones that can be added to your two-way radio. These speakers come with belt clips that are convenient to use for longer conversations. Earphones are also available that you can use without using hands. It allows listening to the group while doing other activities like walking and driving.
Two way radios are popular for use while camping, fishing and other outdoor activities. They are a great way to keep a group together and are often carried by team members during hiking, fishing and for any other recreational event. Walkie talkies are commonly used by businesses to keep in touch with their employees working in industrial units or working on a sensitive area.